PoodleHQ is a participant in the Amazon Services LLC Associates Program, an affiliate advertising program designed to provide a means for sites to earn advertising fees by advertising and linking to Amazon.com
A well-groomed Poodle is a beautiful thing. Poodles require the right tools and grooming care to keep their curly coats tangle-free. While it's challenging to take control of your dog's hair care, the good news is that you don't need to take your Poodle to a professional groomer to get the results you want. Instead, you can groom your pet in the comfort of your own home.  
Choosing the right brush can seem overwhelming. There are a ton of options with different weights, features, pins, and brush head sizes. But with patience, practice, and the proper grooming brush, you can maintain and style your Poodle's coat for a soft and fluffy finish. 
Discover these 3 best brushes for Poodle hair that will have your pet looking like a winner in no time. 
What To Look for In a Brush
Before you rush out to buy the first brush that you see, let's dig into what to look for in a Poodle grooming brush. There are several key features that can help you make the best decision to suit your needs. 
Flexible Pins
First, you will want to look for flexible pins. These are wide-spaced metal pins with soft round safety tips on the ends.
While some people think that you need a stiff brush to work deep into a Poodle's thick coat, flexible brushes are a game-changer when it comes to grooming your pet. It's important to pick a brush that won't irritate your Poodle's skin and cause painful "undercoat burn".
Since Poodles have dense coats with coarse hair, using a flexible brush means that it's easier to untangle matted hair or tease out dead hair, dirt, or debris without hurting your best friend. With flexible or bendable pins, it's also easier to groom difficult areas without scratching or jabbing the skin.
As a plus, a flexible brush contours along a Poodle's body in a way that a rigid brush cannot. A brush with flexible pins can also massage your Poodle's skin to stimulate healthy blood flow.
Comfortable Handle
Second, you may want to check for a comfortable grip. Some brushes have a more traditional style that has a hard or straight handle. Since experts recommend Poodle grooming every 3 to 6 weeks, you'll spend a fair chunk of time using a styling device. That means that a comfortable, ergonomic, and user-friendly grip is important for a good experience.  
Weight and Durability
As with any tool, it's important to choose a brush that won't break after a short time.
Since you will probably spend a lot of time brushing your dog, it's a good idea to look for a brush that won't feel too heavy to use throughout an entire grooming session. You'll want something with enough weight to handle the tangles while leaving your hands in good shape. 
Large Head Brushes 
If you have a Toy or a Teacup Poodle, it makes sense to use a smaller brush that's appropriately sized for a tiny body. If you have a Standard or a Miniature Poodle, using a large head brush will offer the sweep and scope that you need to groom large swaths of your pet's body without having to make small brushing motions.
Slicker brushes are like boar bristle brushes, but they have dense wire bristles, and are often used by professional groomers.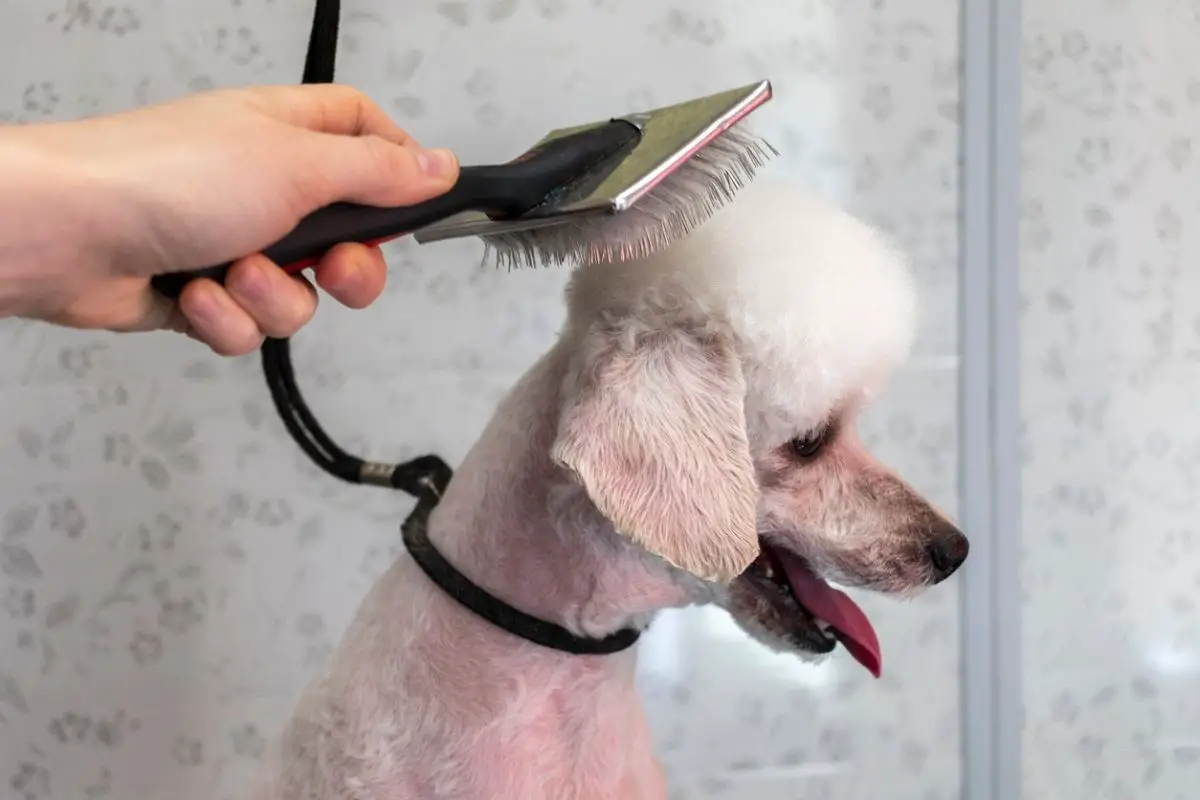 ---
what is the best brush for a poodle?
1. Chris Christensen Slicker Brush – Best Brush For Poodles Overall
This slicker brush consistently ranks near the top for both Poodle owners and professional groomers. That's because it is one of the best brushes for easily and painlessly eliminating tough knots and tangles that can snowball into a matted nightmare. It has some of the longest and softest pins available on the market. It's also manufactured from quality materials in Germany.
Type of Pins
If you're looking for longer pins to excise dirt and massage a longer-haired dog, you'll want to consider using the Chris Christensen brush. That's where this slicker brush has you covered. With 26.5 mm long pins, you'll get the depth you need to get the job done. If your Poodle has a long coat, consider using a longer pin that can easily penetrate thicker coats.
This slicker brush not only has flexible pins that move as you brush your Poodle, but it also features bent pins that can help you style difficult-to-groom places.
Handle Characteristics
If you're going to groom your Poodle every month or so, you'll want to invest in a brush that doesn't hurt your hand. Although this brush doesn't have a rubber grip, it does have an ergonomic shape that is designed to contour to your hand. 
Some people with larger hands or long fingers might find that the handle is a little too thin for a comfortable grasp.
Due to the handle's smooth rubber texture, your hand won't slip as easily during use.
Weight and Durability
It's hard to find a better-quality brush on the market. Instead of a plastic frame that's more likely to crack or break down, the Chris Christensen brush is crafted from light wood in Germany. It's also covered with their signature, silky smooth "Groomgrip Coating" that offers a sturdy grip.
While it's not the absolute lightest brush on the market, Chris Christensen's Big G Slicker Brush weighs in with a featherweight touch of just 3.8 ounces. This way, you won't feel like you're getting an upper body workout every time you do a grooming session.
Head Size
Some experts recommend using a large head brush to groom a Poodle's body while using a smaller slicker brush for more delicate work on the face, legs, tail, and between the toes. According to user reviews, Chris Christensen's large head is designed to make grooming easier. It covers a large surface area while gliding through matted or tangled areas with little effort.
Where To Buy
Honorable Mentions
---
2. Hertzko Self-Cleaning Slicker Brush
If there's one thing that we all love, it's an appliance that cleans itself. That's just one of the features that Poodle owners love about the Hertzko grooming brush.
While this brush runs a little more expensive than other kinds of brushes, the self-cleaning feature combined with fine, bent pins that work on all coats to easily and gentle detangle and remove dirt, dander, and knots from a Poodle's undercoat makes it worth the money.
Type of Pins
According to Hertzko, its wire brush pins are more flexible than many other brands. This enables users to detangle and brush through thick hair without irritating or scratching your pet's skin. While the shorter pins act great on shorter fur, they are harder to use on long coats. 
This isn't a brush that you can just whisk through your Poodle's coat. It can take more time to groom your Poodle since exerting too much speed or pressure with a slicker brush can damage your Poodle's delicate skin.
On the downside, you need to be careful since it can snag a little on knotty tangles. But the deep brushing feature is a great way to massage a nervous Poodle for a relaxing grooming experience.
As a bonus, the brush has a push button that retracts the bristles to make cleaning a breeze. Even better, no more mess or having to pull hair out of brush bristles since the retract feature drops a rectangular wad of compressed hair out of the device, ready for you to vacuum or pick up.
Handle Characteristics
This brush comes with a straight handle that is slightly angled down and features a cushy grip. It can seem top-heavy, which could aggravate discomfort for someone who has arthritic joints.
Weight and Durability
Weighing in at 3.2 ounces, the Hertzko best brush for poodles beats the Chris Christensen for weight. With a sturdy plastic body and rubberized grip, this brush has decent durability. The bristles are fine textured but strong.
Some consumers report that the retract button can be hard to press and has sometimes failed to respond. At the same time, if you store this slicker brush with the bristles retracted, this will help your brush last longer than other types of wire slicker brushes.
Head Size
This large head brush makes grooming a snap since it can cover more area in less time. According to users, it also leaves pet hair shinier, removes tangles, dirt, and dandruff, and tons of loose hair that you didn't even know existed.
If you have a smaller Poodle type, Hertzko's large head brush is a bit bulky for grooming smaller or tight areas.
Where To Buy
Honorable Mentions
---
3. Hartz Groomer's Best Combo Dog Brush
If you want to groom Poodle puppies with their soft, fine coats or if you just want a brush that works double-time detangling hair for a sleek shine, you'll want to check out Hartz Groomer's Best Combo Dog Brush.
Its steel bristles excel at removing small, matted knots from long, thick, or curly coats. This makes it an idea Poodle grooming tool. Flip it over and the nylon bristle side teases out natural oils and spreads them smoothly through the hair to create a soft, shiny, and healthy coat. 
Type of Pins
This is a brush style that you'll recognize from pet store shelves. From an oval base, it acts as a double-sided brush. Its dual action, 18mm steel pins and 20mm soft, flexible nylon bristles allow you to detangle and remove loose hair, dirt, and backyard debris from your Poodle's coat and then groom your pet's hair to a smooth finish. 
Since it has ultra-flexible pins, this makes it a gentle way to detangle long-haired Poodles. Keep in mind that the bristles tend to work better on long-haired dogs rather than short-haired species. The good news is that it does a great job with different hair textures such as curly, coarse, or wiry types.
Handle Characteristics
If you're looking for an ergonomic handle to ease your wrist during the grooming process, this brush has a more basic, low-tech vibe. Its straight handle might not be as cushy as some other brands, but it has a thick rubber grip which makes it easy and comfortable to grasp while you work.
Weight and Durability
At 4.8 ounces, this brush lands in on the heavier side. That's due to its dual action feature where you essentially get two brushes for one. It's also a sturdy and well-made brush that consumers report holds up well under regular use.
Head Size
Even though it's not a large head brush or a tool for professional grooming, the Hartz is a great brush for everyday hair care. It's versatile, inexpensive, and gives you two features for your money.
Where To Buy
Honorable Mentions
We are sorry that this post was not useful for you!
Let us improve this post!
Tell us how we can improve this post?