PoodleHQ is a participant in the Amazon Services LLC Associates Program, an affiliate advertising program designed to provide a means for sites to earn advertising fees by advertising and linking to Amazon.com
Are you tired of trying out countless shampoos for your poodle without seeing any positive results? Do you want to give your poodle the best grooming experience?
As a proud poodle owner myself, I understand the importance of finding the right shampoo to keep my dog looking and feeling their best. That's why I've done the research and tried out various shampoos to bring you the top pick.
Whether your poodle has sensitive skin, or just needs a deep clean, the shampoo should leave their coat soft, smooth, and smelling great. With regular use, your poodle will have a healthy coat that is free of tangles, mats, and irritations.
So what are you waiting for? Give your poodle the ultimate grooming experience with the best poodle shampoo today.
Criteria Used for Evaluation
Before you choose a Shampoo for your Poodle, you should always consider the following to help with your decision:
Hair Type
A Poodle's natural hair is curly, thick, and hypoallergenic. For this reason, you should only use shampoos that have been specifically formulated to keep their curly coats intact. All shampoos should be made to maintain the natural texture of their coat, limit tangles, and stop it from matting.
Skin Sensitivity
Poodles are a dog breed prone to more skin issues than most dog breeds. The Standard Poodle, especially, is prone to hereditary conditions like granulomatous sebaceous adenitis. They also get skin allergies from seasonal and food changes, so you have to be careful on the shampoo you choose. When looking at shampoos for Poodles, you'll want to ensure no harsh chemicals are in them to reduce the likelihood of irritation and dryness.
Top Tip: When looking for shampoos for the Poodle's skin, always look for natural ingredients like oatmeal and aloe vera to help soothe and moisturize the skin.
Purpose
When choosing a shampoo for your Poodle, take into account the specific need for it. For instance, if your Poodle has a skin condition, always look for a medicated shampoo. These types of shampoos contain active ingredients which work to treat the existing condition. If your Poodle suffers from a bad odor, you'll need to get a deodorizing shampoo that removes the odor.
Quality Ingredients
Another important factor you must review is the quality of the ingredients in the shampoo. The ingredients in the shampoo can play a big role in keeping the health of the skin and coat intact. Always look for the shampoo to have natural ingredients like oatmeal, aloe vera, and chamomile to soothe and moisturize the skin. These ingredients will help your Poodle's coat become shiny.
pH Balance
On average, an ideal pH for a dog's skin is between 6.5-7.5, so it's important to pick a shampoo that has a similar Ph. Doing this reduces the likelihood of their skin becoming irritated and dry; it will help maintain overall good skin health.
Brand Reputation
Always review the reputation of the brand when looking for Poodle shampoo. Look for a brand known on the market with positive and consistent reviews. Doing this will help you choose an effective and reliable product that will provide the optimum results for your Poodles coat and skin.
Our Selection of Best Poodle Shampoos:
1. Nature's Specialties Almond Crisp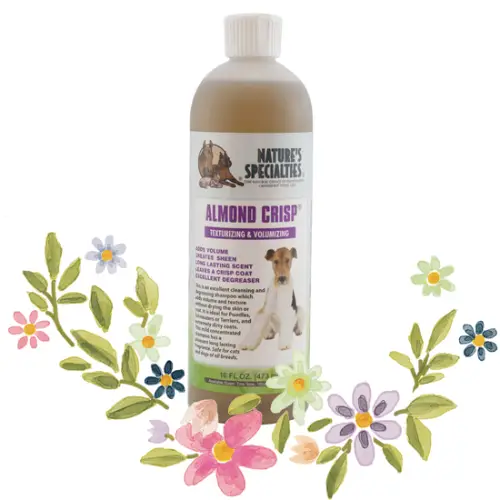 With Poodles being known as water retrievers, loving swimming and being active, their coat can get easily dirty. Nature's Specialities Almond Crisp, is one shampoo that can help tackle dirt and grime from their coats after a play session making it look shiny. Another reason I chose this shampoo is that it's highly concentrated!
They claim they have a 32:1 ratio, meaning a single 32 oz bottle dilutes up to 8 gallons of warm water from your tap. The bottle even has a line where you should dilute and directions to follow on the side of the packaging.
The shampoo is also made in the USA, and with the country's strict laws behind cosmetics laws, there are no filler or unhealthy ingredients in them. The major factor I love the most about this shampoo is that all the ingredients are non-toxic and have a biodegradable blend.
Some key ingredients are herbal oils, essential oils, aloe vera, panthenol, vitamins A, D, and E, Aloe Vera, and more. It's also ph balanced, allowing their coat to shine and not dry out, being great for Poodles in particular!
Another major thing about this brand is that it's highly used and recognized and heavily used by the dog grooming industry. Many people who buy this product are Poodle breeders and owners who enter their dogs for shows; they are constantly full of praise.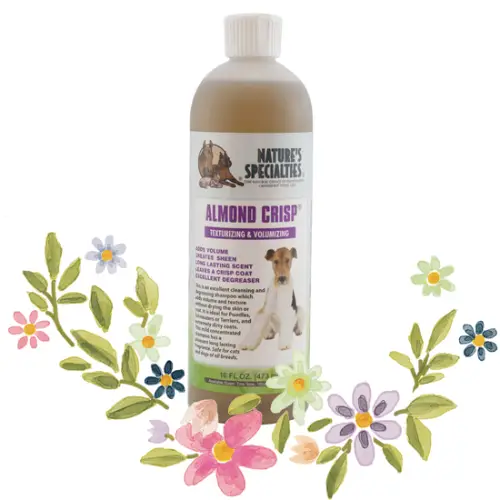 2. Isle of Dogs – Everyday Natural Luxury
If you're looking for a natural shampoo for your Poodle free from parabens and gentle sulfates, I highly recommend Isle of Dogs. This shampoo has been developed for Poodles of all ages and is made completely from natural ingredients! The two main ingredients in this shampoo are Oatmeal and Jojoba oil. So, if your Poodle suffers from dry skin, these two ingredients add moisture and provide silkiness to their coat.
Again, this shampoo is sourced and made in the USA, meaning the ingredients and formulation process are extremely high quality. It also smells nice when applied to your Poodle! Many dog owners who use this shampoo also regularly praise how it leaves a soft yet subtle mild fragrance.
3. Touch of Mink Minksheen
One shampoo perfect for Poodles with a lot of history behind it is the Mink Sheen 16oz. This shampoo was made by a highly sought after grooming brand, Touch of Mink, over 20 years ago! For over two decades, they've been refining their formula to help treat common skin conditions faced by dogs. It's also made to help nourish their coat, making them shiny and clean. Moreover, this shampoo has proven highly effective. It's become the bestseller of this brand!
What's great about this product is that it's 2 in 1! It has both conditioner and shampoo combined. While its main purpose is to help soothe irritated skin, it also strips horrible smells from the coat. The main ingredients in this product consist of natural oils being, citronella, cedar, and eucalyptus. They tend to provide a wood-like smell that stays on the dog's coat for a few days.
It's also recommended by many dog owners who enter their dogs for shows.
4. Chris Christensen Clean Start Clarifying
Another shampoo worth noting for your Poodle is the Clean Start Clarifying by Chris Christensen. It's a mild shampoo that's been formulated for all types of coats, and the balanced PH makes it great for a Poodle's sensitive skin. It also has a formula made out of vitamins designed to enrich the follicles of the Poodles coat.
The shampoo is also cleverly made to remove dirt without the protective oils from the skin removed. It's also highly dilutable, with a ratio of 16:1 being good for treating sensitive skin.
Honorable Mentions
We are sorry that this post was not useful for you!
Let us improve this post!
Tell us how we can improve this post?
Marko is the founder and author at PoodleHQ, where he leverages his expertise and passion. With three generations of poodles under his care, Marko is a lifelong enthusiast of the breed and all animals, bringing his love and appreciation to his work every day.