PoodleHQ is a participant in the Amazon Services LLC Associates Program, an affiliate advertising program designed to provide a means for sites to earn advertising fees by advertising and linking to Amazon.com
As a dog owner, choosing the right food for my Poodle is of utmost importance. I always ensure that my poodles' nutritional requirements are met and that the food is made of high-quality ingredients. However, with so many dog food options in the market, it can be overwhelming to decide which one to choose. That's why I have researched and evaluated several dog foods based on different criteria to help make an informed decision. In this article, I will be sharing my findings on the best dog food options for Poodles.
Criteria Used for Evaluation
Before deciding on the right dog food for your Poodle, you should always think about the following to help make your decision:
Nutritional balance
Ensure the food contains a balanced portion of carbohydrates, vitamins, fats, proteins, and minerals to meet your Poodle's daily nutritional needs.
Note: If you're not entirely sure what your Poodle requires, contact your veterinarian, who will be able to tell you the exact proportion they need.
Quality of Ingredients
Always opt for high quality dog food that contains whole-food ingredients. Make sure the food has no filler ingredients like wheat, soy, and corn.
Life stage
At different points in their lives, Poodles have different nutritional requirements. The amount they require can vary based on their size, age, and activity level. Therefore you must choose a food specifically formulated for their particular life stage, whether they're a puppy, adult, or elderly dog.
Health concerns
If your Poodle has specific health problems or is more at risk of getting certain ones, you'll want to get food that considers this. For instance, if your Poodle suffers from pancreatitis, you'll want to look for dog foods that are low in fat.
Personal preferences
Last but not least, you should always think about your Poodle's preferences regarding the food's taste, texture, and smell. If your Poodle already likes it, they'll eagerly await to eat it and have the best nutrition.
Our Selection of The Best Dog Foods for Poodles:
1. Blue Buffalo Life Protection Formula
If you're looking for food for your Poodle that has a lot of choices, then you can't go wrong with the Life Protection Formula from Blue Buffalo. The main reason I chose this Poodle food is that they have 7 different flavors!
Therefore if you own a Poodle that's a picky eater, it's likely that this food will help address those issues. They also have various sizes ranging from 5-34 lbs, which means you can save money buying in bulk.
This food is also completely dry, which makes it easier for you as a dog owner. You can easily portion their food out, and it's less likely it will spoil if your Poodle does not touch it. Personally, I feel the best feature about this food is that the meat is real, and the rest of the ingredients are all natural!
You'll find vitamins, minerals, and no meat byproducts in this food. They also have a lot of whole grains, fruits, veggies, and omega 3,6,5 and fatty acids to promote healthy skin and a shiny coat. The real meat used in it also helps contribute to the build and maintenance of their muscles.
Another factor I love about Blue Buffalo is that the food has been formulated by experts, animal nutritionists, and holistic veterinarians. They've created in mind to cover their immunity, lifestages, and health with an oxidative balance.
2. Diamond Naturals
Another premium quality dog food you might want to try for your Poodle is Diamond Naturals. It comes in two different flavors, lamb and chicken. While it's formulated for grown-up dogs like the Standard, they do have a lamb flavor for puppies. They also have three sizes to choose from 6,20, and 40-lb packs.
The food is dry and made from pellets, making separation into different portions easy. It contains real organic protein, and the chicken in their products is bred outside a cage. It's also been specifically formulated for larger breeds with amino acids to promote strong and lean muscles.
The ingredients inside the food are also of a premium quality containing minerals, vitamins, and superfoods packed with antioxidants, fatty acids, glucosamine, chondroitin, and probiotics. These ingredients promote a healthier coat, skin, and gastrointestinal tract. They also don't contain any corn, wheat, filler, artificial flavors, colors, or preservatives.
While Diamond Naturals are a family owned business, its food has been scientifically formulated to meet nutritional levels set by the AAFCO Dog Food Nutrient Profiles. So, you can be rest assured this dog food is of high quality for your Poodle.
3. ORIJEN Dog Original Recipe
If you're looking for a high protein food for your Poodle, I suggest you check out Orijen. This dog food has 7 flavors catering to different life stages, from puppies to seniors. You also have the option to choose whether you want grains or for them to be grain free.
The grain free version contains whole animal ingredients like wild caught fish, cage free eggs, free-run turkey, chicken, and more. In contrast, the grain version has premium ingredients like chia, quinoa, and oats and is fiber-packed.
They also extract EPA and DHA from whole herring, pollock, and mackerel to promote healthy skin and coat for Poodles. One of the great things about this brand is its claim that 85% of its ingredients are protein containing essential vitamins and minerals. The first five ingredients are also fresh or raw. This dog food is also made in the USA and has passed strict checks for it to be sold.
4. ACANA Wholesome Grains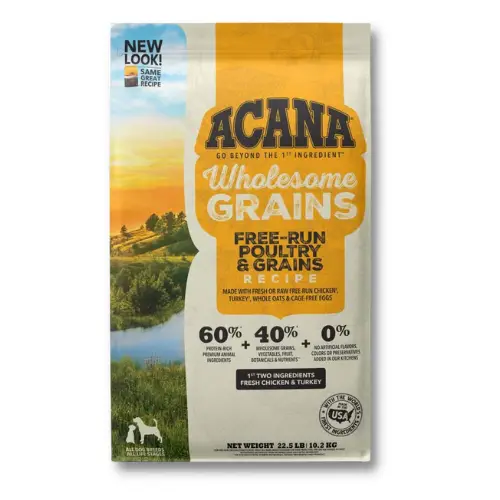 If I had to pick a dog food for Poodles that have an abundance of options, then I'd select ACANA wholegrains. The reason for that is it has over 14 different types of flavors, 5 different styles to choose from, and 8 different sizes. That's a lot of variety you have there! Now, talking about the styles you can choose from, there are wholesome grains, grains, grain free, wet food, and freeze dried food.
In terms of flavor, they have several different types of meat, from fish, chicken, lamb, duck, pork, beef, and more. They've formulated flavors for puppies too! ACANA also develops its food to foster good heart health containing vitamins B, E, taurine, and choline. These ingredients also help properly function the circulatory and nervous systems to ensure they work well.
They also balance their recipes well, ensuring no gluten, legumes, wheat, corn, or potatoes. The ingredients in their food are also high quality, like millet, whole sorghum, and oats, making it highly nutritious for your Poodle.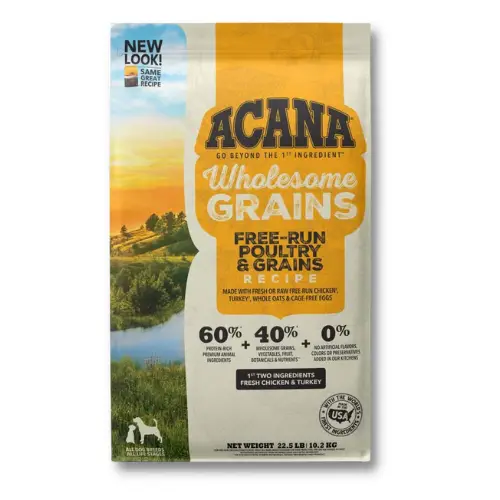 5. Natural Balance Limited Ingredient
If you own a fully grown Poodle, then you should check out Natural Balance. This food is specifically formulated for adult dogs and comes in pellet form. It comes in 6 different flavors and has 24 different pack options.
All flavors have been carefully formulated, undergoing many program tests for each batch to ensure they are safe enough for Poodles. They even go a step further with their customer service having a team of registered veterinary technicians to hand!
Every ingredient they add to the food they claim is of a premium quality with one single animal protein source, no gluten, soy, artificial flavors, or colors. Plus, they've specifically formulated the food to promote better digestion, heart health, skin quality, immune system, and bones. 
---
In conclusion, as a dog owner, choosing the right food for my Poodle is essential to ensure that they receive the right nutrition for their specific needs. With so many options on the market, it can be challenging to make a decision. However, through my research and evaluation of several dog foods, I have identified some of the best options available. Factors such as nutritional balance, quality of ingredients, life stage, health concerns, and personal preferences are critical to consider when making a choice.
We are sorry that this post was not useful for you!
Let us improve this post!
Tell us how we can improve this post?
Marko is the founder and author at PoodleHQ, where he leverages his expertise and passion. With three generations of poodles under his care, Marko is a lifelong enthusiast of the breed and all animals, bringing his love and appreciation to his work every day.