PoodleHQ is a participant in the Amazon Services LLC Associates Program, an affiliate advertising program designed to provide a means for sites to earn advertising fees by advertising and linking to Amazon.com
As a dog owner, choosing the right food for my Poodle is of utmost importance. I always ensure that my poodles' nutritional requirements are met and that the food is made of high-quality ingredients. However, with so many dog food options in the market, it can be overwhelming to decide which one to choose. That's why I have researched and evaluated several dog foods based on different criteria to help make an informed decision. In this article, I will be sharing my findings on the best dog food options for Poodles.
Criteria Used for Evaluating the Best Dog Food for Poodles
Before deciding on the right dog food for your Poodle, you should always think about the following to help make your decision:
Nutritional balance
Ensure the food contains a balanced portion of carbohydrates, vitamins, fats, proteins, and minerals to meet your Poodle's daily nutritional needs.
Note: If you're not entirely sure what your Poodle requires, contact your veterinarian, who will be able to tell you the exact proportion they need.
Quality of Ingredients
Always opt for high quality dog food that contains whole-food ingredients. Make sure the food has no filler ingredients like wheat, soy, and corn.
Life stage
At different points in their lives, Poodles have different nutritional requirements. The amount they require can vary based on their size, age, and activity level. Therefore you must choose a food specifically formulated for their particular life stage, whether they're a puppy, adult, or elderly dog.
Health concerns
If your Poodle has specific health problems or is more at risk of getting certain ones, you'll want to get food that considers this. For instance, if your Poodle suffers from pancreatitis, you'll want to look for dog foods that are low in fat.
Personal preferences
Last but not least, you should always think about your Poodle's preferences regarding the food's taste, texture, and smell. If your Poodle already likes it, they'll eagerly await to eat it and have the best nutrition.
Calorie requirements
Our Selection of The Best Dog Food Brands for Poodles:
1. Blue Buffalo Life Protection Formula
After rigorous testing and tasting by my Poodle, I can confidently say that the Blue Buffalo Life Protection Formula has proven to be an excellent choice. With seven distinct flavors to choose from, even the fussiest of eaters will find something they love. My own Poodle can be quite selective, but she took to this range of foods with surprising eagerness.
The availability of various sizes, from 5 to 34 lbs, is a plus. It not only provides convenience but also allows for economical bulk buying. This is especially handy if you have a larger dog or multiple pets.
One of the standout features of this dog food is its dryness. It simplifies portion control and reduces the risk of spoilage, which can be an issue if your dog, like mine, occasionally leaves food untouched.
What truly impressed me, however, was the quality of the ingredients. The meat is real, a fact that my Poodle definitely appreciated, and the rest of the ingredients are all-natural. There's an impressive list of vitamins and minerals, with no meat byproducts whatsoever. The inclusion of whole grains, fruits, vegetables, and a blend of Omega 3,6,5 fatty acids is commendable. This not only supports healthy skin and a glossy coat, but also contributes to muscle development and maintenance, something I noticed with my dog.
Perhaps the most reassuring aspect of the Blue Buffalo Life Protection Formula is its development by a team of experts, including animal nutritionists and holistic veterinarians. Their expertise is apparent in the food's balance, designed to cover immunity, life stages, and health. My Poodle's overall health and vitality have noticeably improved since we switched to this food. Her coat is shinier, and she seems more energetic and happier.
In conclusion, the Blue Buffalo Life Protection Formula's nutritional balance, the quality of ingredients, and focus on specific life stages and health concerns align perfectly with my preferences and my Poodle's needs. I am fully convinced of its merits and would highly recommend it to other dog owners.
2. Diamond Naturals
Having recently introduced my Poodle to Diamond Naturals dog food, I can confidently speak to its many impressive qualities. I was particularly drawn to the two available flavors – lamb and chicken. My Poodle absolutely adores the lamb option, but we're certainly open to trying the chicken in the future. Whether you have a puppy or a mature Miniature Poodle like mine, Diamond Naturals has you covered with their age-appropriate formulations.
One feature that I found incredibly convenient is the three different sizes of packs they offer – 6, 20, and 40-lb packs. As someone who values convenience, the dry, pellet-like structure of the food makes portioning meals for my Poodle a breeze.
What truly stands out about Diamond Naturals is the commitment to quality in their ingredients. The food is made with real organic protein – the chicken is even cage-free. What's more, it's been specially designed for larger breeds, incorporating amino acids to foster strong, lean muscles. This attention to the nutritional balance of the product was very reassuring for me.
Looking into the contents of the food, I was pleased to find an array of premium ingredients. Minerals, vitamins, and superfoods form a health-boosting blend of antioxidants, fatty acids, glucosamine, chondroitin, and probiotics. I've noticed a significant improvement in my Poodle's coat and skin health, not to mention a healthier gastrointestinal tract. It's worth noting too that the food is free from any corn, wheat, filler, artificial flavors, colors, or preservatives, which aligns with my personal preference for a more natural diet for my pet.
Diamond Naturals is a family-owned business, but they've taken their commitment to quality one step further. Their dog food has been scientifically formulated to meet the nutritional levels set by the AAFCO Dog Food Nutrient Profiles. This gave me a peace of mind that I was addressing the life stage and health concerns of my Poodle effectively.
Overall, from nutritional balance to the quality of ingredients, life stage appropriateness, addressing health concerns, and suiting my personal preferences, Diamond Naturals has proven to be an excellent choice for my Poodle.
3. ORIJEN Dog Original Recipe
As a devoted dog owner, I had the opportunity to test out ORIJEN Dog Original Recipe for my beloved Poodle. This dog food truly offers a well-rounded nutritional balance, considering every life stage from puppies to senior dogs.
I was particularly impressed by ORIJEN's rich variety of flavors – seven in total, each catering specifically to a different stage of a dog's life. Moreover, they provide both grain and grain-free options, allowing me to tailor my dog's diet to our personal preferences.
Testing the grain-free version, I was delighted to find that it is filled with wholesome animal ingredients like wild caught fish, cage-free eggs, and free-run turkey and chicken. The quality of the ingredients was apparent and left me assured that my Poodle was receiving a nutritionally balanced diet.
On the other hand, the grain version is equally impressive with its premium ingredients such as chia, quinoa, and oats. It's packed with fibers, ensuring a healthy digestion for my Poodle.
One thing I found to be standout is that they extract EPA and DHA from whole herring, pollock, and mackerel, contributing to a shiny, healthy coat and skin – something that's always a concern for us Poodle owners.
One of the reasons I chose ORIJEN was their claim that 85% of their ingredients are protein sources, packed with essential vitamins and minerals. True to their word, the first five ingredients are either fresh or raw, attesting to the quality of the product.
Finally, as a responsible pet parent, I was comforted by the fact that this dog food is made in the USA and has undergone strict quality checks before it reaches the market. After trying ORIJEN Dog Original Recipe, I can confidently say that it addresses all my health concerns for my Poodle, providing a meal that is not just delicious, but also nutritionally balanced and of high quality.
4. ACANA Wholesome Grains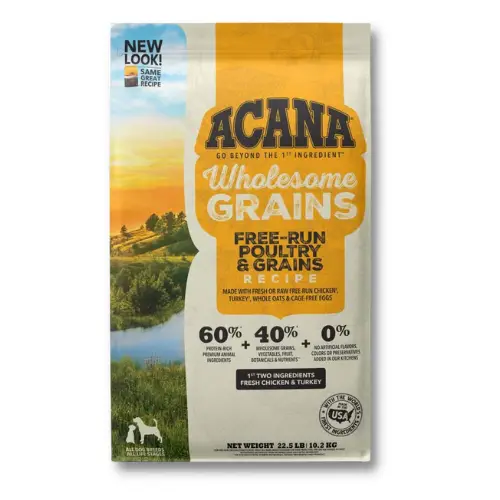 As a pet parent who takes great care in providing the best for my Poodle, I've extensively tested ACANA Wholesome Grains dog food, and I must say, it stands out in its category. The product offers an impressive variety with over 14 distinctive flavors, 5 styles, and 8 sizes to choose from, catering to even the pickiest of eaters.
The flavors available are diverse, from fish to chicken, lamb, duck, pork, beef, and many others. What's more, they've thoughtfully formulated options for puppies, ensuring every life stage of my furry friend is well catered for.
One of the aspects that impressed me most about ACANA Wholesome Grains was their commitment to nutritional balance. Their products are meticulously formulated to promote optimal heart health, with the inclusion of beneficial vitamins such as B and E, as well as taurine and choline. These ingredients are essential for maintaining a healthy circulatory and nervous system, a fact that gives me peace of mind knowing I'm contributing to my Poodle's overall wellbeing.
What I also appreciate about this product is their conscious decision to exclude gluten, legumes, wheat, corn, or potatoes from their recipes. This is a testament to the quality of the ingredients they use, which includes nutrient-rich elements like millet, whole sorghum, and oats. The high-quality ingredients, coupled with their commitment to a grain-free diet, align perfectly with my personal preferences for my Poodle's diet.
Given the nutritional balance, quality of ingredients, consideration of life stage, attention to health concerns, and alignment with my personal preferences, ACANA Wholesome Grains dog food comes highly recommended from my experience. It is a product that truly understands and caters to the needs of Poodles, ensuring they live a healthy and happy life.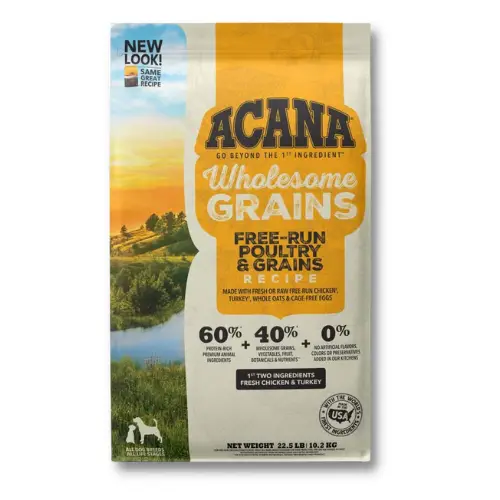 5. Natural Balance Limited Ingredient
Having had the opportunity to thoroughly test Natural Balance Limited Ingredient dog food with my adult Poodle, I can confidently say this product offers a variety of benefits. As an owner, there are several factors I consider when choosing food for my four-legged friend. I'll break down my experience with this product based on the criteria of nutritional balance, quality of ingredients, life stage appropriateness, health concerns, and personal preferences.
To start off, the nutritional balance of this dog food is impressive. It's evident that Natural Balance has put a lot of thought into ensuring each pellet is packed with the necessary nutrients to support the overall health of my Poodle. With a wide variety of six different flavors and 24 packaging options, there's something for every Poodle out there.
The quality of ingredients used in this product truly stands out. The company asserts that every ingredient is of premium quality, and my experience seems to affirm this. The absence of gluten, soy, artificial flavors, and colors is a big plus for me. Additionally, the inclusion of a single animal protein source per food type is a thoughtful touch, making it easier for dogs with specific dietary needs.
As the owner of an adult Poodle, the life stage appropriateness of this food is spot-on. It's clear that Natural Balance has tailored this food specifically for fully grown dogs, and my Poodle absolutely loves it.
Regarding health concerns, my Poodle has demonstrated improved digestion since starting on this food. I've even noticed a visible difference in the strength and health of her bones. This makes me confident that the food is not only nourishing but also beneficial for long-term health.
As for personal preferences, I appreciate the commitment Natural Balance has made to customer service. The fact that they have a team of registered veterinary technicians on hand is impressive and reassuring. This provides an added layer of trust in their product and a reliable resource if I ever have any concerns or questions.
In conclusion, after personally testing Natural Balance Limited Ingredient dog food, I can vouch for its nutritional balance, quality of ingredients, life stage appropriateness, and health benefits. It's a product I feel confident feeding to my Poodle and one I'd highly recommend to other Poodle owners.
Frequently Asked Questions
How much food should I feed my poodle daily?
The amount of food to feed your poodle will depend on their age, weight, activity level, and current health condition. Generally, an adult poodle will require 1 to 1.5 cups of dry dog food per day, while toy poodles need around 1/4 to 1/2 cups daily. Be sure to consult your veterinarian to determine the right amount for your individual dog.
How do I know if my poodle has a food allergy?
Poodles with food allergies may exhibit symptoms such as itching, skin irritations, vomiting, diarrhea, and lethargy. If you suspect your poodle has a food allergy, consult your veterinarian, who can properly diagnose the allergy and recommend a hypoallergenic or limited ingredient diet.
What should I look for when finding the best dog food for my poodle with food sensitivities?
When finding the best dog food for poodles with food sensitivities, look for a food that is grain-free, made with limited ingredients, and contains high-quality protein sources. It's important to avoid common allergens such as corn, wheat, soy, or artificial additives. Be sure to consult your veterinarian for guidance on selecting the right food for your dog's specific needs.
Can I feed my poodle wet dog food instead of dry dog food?
Yes, you can feed your poodle wet dog food instead of dry dog food. Wet food provides additional hydration and may be more palatable for pickier eaters. However, it's essential to ensure the wet food still meets your poodle's nutritional requirements and monitor your dog's dental health, as wet food can contribute to plaque buildup.
How do I transition my poodle to a new dog food?
To transition your poodle to a new dog food, gradually mix the new food with the old food over a period of 7-10 days. Start by substituting 25% of their current food with the new food, then continue to increase the proportion of the new food every few days. This gradual change in food will help avoid digestive upset and ensure a smoother transition.
Do poodle puppies require different food than adult dogs?
Yes, poodle puppies require a different diet than adult dogs. Puppy food is specifically formulated with the necessary nutrients for growth and development. Poodle puppies should generally be fed puppy food until they reach adulthood, around 12-15 months of age. At that point, you can gradually transition them to an adult dog food.
Should I give my poodle a diet that includes raw food?
A raw food diet can provide potential benefits for some dogs, but it's essential to ensure that the diet is well-balanced and meets your poodle's nutritional requirements. Consult your veterinarian before transitioning your poodle to a raw food diet, as it may not be suitable for all dogs or may need careful formulation and monitoring.
We are sorry that this post was not useful for you!
Let us improve this post!
Tell us how we can improve this post?
Marko is the founder and author at PoodleHQ, where he blends profound expertise with formal training in Animal Behavior and Canine Genetics. With multiple generations of poodles under his care, he's a breed connoisseur, honored with the Canine Care Excellence Award and lauded by the International Pet Enthusiasts Association.