Are you a proud Poodle owner looking to showcase your furry friend's unique beauty and talent? Then conformation shows might be the perfect fit for you! But with so many rules, regulations, and competitors, it can be overwhelming to navigate the world of breed shows. Don't worry, I've got you covered.
In this article, I'll walk you through the ins and outs of conformation shows for Poodles, including how to prepare your Poodle, what to expect on show day, and how to increase your chances of winning. So if you're ready to take the show ring by storm, read on for our expert tips and tricks.
Conformation Shows
When entering your Poodle into dog shows, the American Kennel Club (AKC) calls their show conformation shows. Usually, there are three types of confirmation shows your Poodle can participate in which are:
Receive our Smart Poodles - Smart Tricks eBook free.
Join below for instant access!
All-breed show (only for AKC-recognized breeds)
Specialty show (for just their breed)
Group show (for all breeds in the group)
If you believe your Poodle is exceptional and more beautiful than the average dog, you may want to compete in a conformation show. However, when you think of a show, there's more to just having a well-groomed coat. Conformation judging is quite critical, and your Poodle must fit within the requirements of the AKC's breed standard and be in good condition. The primary purpose of this show is to show off breeding stock.
How does a conformation show work?
For a Poodle to win the title of champion at an AKC show, it must have a minimum of 15 points. The points, however, are awarded based on a scale of specific categories. The more your Poodle beats other dogs, the higher they will rank. Here are the type of points they could potentially win at one show:
5: The maximum amount of points a Poodle can earn in one show.
3, 4, and 5: These are major wins; to become champion, a Poodle will need 2 majors from 2 different judges.
Potentially your Poodle could earn a 5 point major at three consecutive shows and be a champion; however it could take a lot longer.
Most of the time, Poodles, like other dogs, are separated into classes and gender. Once done, a typical competition goes like this:
An official judges all the class males or females and announces each winner to return to the ring.
Then the winner's dog is selected, which gets points towards a championship.
Both male and female winners from each class return to the ring, with specials or champions who are entered.
Then judges choose the best of breed and best of winners.
The best of breed dog is chosen and sent through a round of group judging.
Group judging happens. At this point, if your Poodle enters this stage, you'll want to put them in the Toy group if they're a toy. You must show them in the Non-Sporting group if they're a Miniature.
The winners from this group then progress to the Best in the show, where a judge selects the dog based on the Best in Show.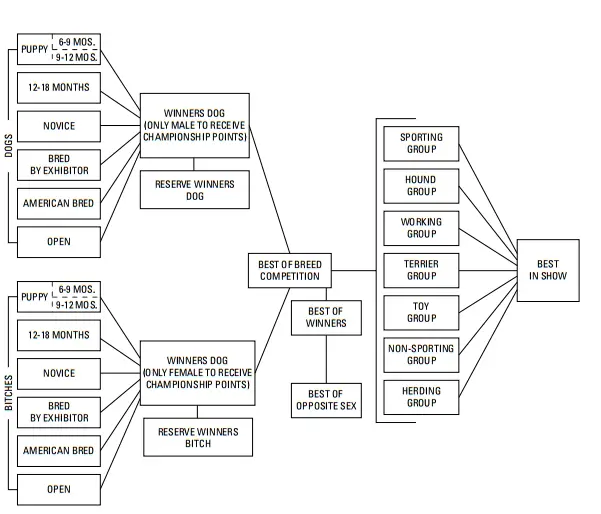 How to prepare your Poodle for a conformation show?
When you initially bought your Poodle, your breeder might have hinted to you that your Poodle might be of show quality. If your breeder has mentioned this, you should go back to them for a second opinion when your Poodle gets a little bit older.
On the contrary, if you didn't get your Poodle from a breeder, i.e., from a rescue group or shelter, then ask people around you. If your Poodle fits the breed standard and many people agree, you should try it out!
Classes
Taking your Poodle to classes is a good way to prepare them for the show. To do this, you will want to take them to a handling class to show them how to prepare. To find the nearest one, just ask your local Kennel Club, as most of them host their own, or you can search for a handler in your area.
Coat
You'll want to prepare their coat for the show ring. Conformation shows require special clips, keeping your Poodles hair much longer than you typically will. There are also rules about their nails and teeth for shows.
If your Poodle is younger than one year old, then they must have a puppy clip. Otherwise, they should have a continental clip or an English Saddle Trim. Also, note that the puppy clip is different from the typical puppy clip you see on a Poodle. The main differences are:
The coat is much longer in show
The top knot and mane are still developed
Their ear flaps have longer hair
Their face, feed, throat, and base of the tail are shaved clean
English Saddle Trim
The English Saddle Cut is best for your Poodle if they're over 1 year old and have a long coat. It's slightly similar to a dutch cut but allows for more hair on the top of their head. It also has an additional pompom on its hind legs and tail.
Continental Clip
This type of clip is where their front legs, face between poms and elbow, hind quarter, hips, feet, and base of the tail are shaved very finely. Generally, the Poodle's top knot is left long and pulled tight back into a ponytail. Similarly, their pack area kept long and finely scissored.
Note: While these types of clips are mandatory for shows, if you're not experienced, you shouldn't cut your Poodle yourself. Instead, it would help if you got a professional groomer to do it themselves, especially ones experienced in grooming Poodles for shows.
Preparing yourself
When showing your Poodle, you can either choose to do it yourself or let a professional handler do it. If you decide to do it yourself, it can be a great learning and rewarding experience, but a lot of hard work!
Still, when showing yourself, hiring a professional to help you groom your Poodle and teach you to show grooming requirements is best. Similarly, if you find a handler, you could always barter with them to groom and teach you, and you could help exercise or clean their dogs. If you find it challenging to find a handler in your area as your breeder for recommendations.
Rally Trials
An AKC rally event is like a team sport, and you'll find any registered dog breed performing in this rally. The whole purpose of this event is for you and your Poodle to navigate a course together. Your Poodle will be on your left hand side and no more than 2 feet away from you while going through the course. The primary role is to steer them through the course quickly and safely through 10-20 various signs.
When you're not moving, your Poodle should be sitting. On each sign, there are specific instructions about the skill that needs to be performed. You and your Poodle must demonstrate good teamwork when undergoing the rally. To qualify, you and your Poodle must get a total of 70/100 points for this.
Note: Although the performance has certain time frames, having a good time is not the priority, it's about keeping your Poodle under control and performing as a team with the right skills.
What are the requirements for rally trials?
For a Poodle to compete effectively in a Rally, they must be the following:
Minimum of 6 months old
Registered with the AKC
Physically Sound
How does it differ from obedience competitions?
Compared to formal obedience competitions, you're allowed to say multiple commands and talk to your Poodle. However, it's against the rules to touch your Poodle. Yet you can slap your leg, clap or use certain hand signals to encourage them!
When taking part in a rally event, you'll be subject to three levels:
Rally Novice: Your Poodle is kept on their lead for every exercise and rally between 10-15 stations.
Rally Advanced: All exercises are done off the lead, and you work through 12-17 stations together. There is at least one jump exercise involved in this.
Obedience Trials
Obedience Trials are one of the oldest sporting events set by the AKC, and all registered breeds can enter. These trials involve a range of activities from walking on, off leash retrieving, and jumping, showing their ability to stay and good behavior. While many similar exercises are shared in Obedience with Rally and CGC tests, the judging and rules in Obedience trials are much stricter. Typically the AKC has four levels of obedience with different exercises:
Companion Dog (CD): Some exercises are on the lead.
Companion Dog Excellent (CDX): All exercises are performed off the lead. Jump, dumbbell retrieving, and they must perform broad jump.
Utility Dog (UD): Off lead exercises and Poodle must master a scent discrimination exercise, directed retriever test.
Utility Dog Excellent (UDX)
Depending on the level, the exercises get more complex.
No matter what level you choose to enter your Poodle, they must have won a qualifying ribbon from three separate judges. To qualify, they'll need a minimum score of 170/200 points.
On average, your Poodle will need to get at least half of the points on each exercise. Once these levels are mastered, your Poodle can work towards an obedience championship (OTCH) which means earning 100 points in certain classes.
Agility Trials
Agility trials for your Poodle involve taking part in strength and stamina sessions. Based on the organization you enter, you won't be able to take your Poodle into an agility competition until your Poodle reaches 12-18 months. Part of the reason for this is that the age requirement provides your Poodle a chance to grow and develop its muscles for the agility competition.
What happens in an agility course?
Typically in an agility course, your Poodle steadily navigates through different obstacles in your chosen direction within a set time frame. It's a fun experience for both you and your Poodle taking them around the different obstacles.
However, there are a lot of different varieties like a seesaw, dog walk, A-frame, pause table, tunnels (opened and closed), and weave poles. The type and number of obstacles in your Poodles competition are based on the level. To give you a better idea, here are the obstacles explained:
 Jumps: These can be simple bar jumps, jumps over tires suspended from chains, or bars at different heights.
Contact obstacles: All have an area that your Poodle must touch as they get on and off an obstacle. A contact zone stops your Poodle from getting injured by jumping on and off an obstacle too high from the ground. There are two main contact obstacles:
A-frame: This contact obstacle has a giant A shape and involves your dog going up and down the other side.
Seesaw: Just like the one from childhood. Your dog should get on the end that touches the floor and then walk across it until it drops on the floor.
Dog walk: A narrow plank that leads from the ground to another plank.
Pause table: Where your Poodle must lie or sit down for 5 seconds based on the judge's discretion.
Open tunnel: Long tunnel, which can be straight or rigid.
Closed tunnel: A rigid section where your Poodle enters a closed part of the tunnel and runs through it to exit.
Weave poles: Poles of rows where your Poodle must navigate around them.
What are the rules of agility competitions?
When it comes to entering your Poodle in an agility competition, there are different rules, as both the AKC and UKC run them. Alongside this, there are other agility organizations in the USA, like the United States Dog Agility Association (USDAA) and North American Dog Agility Council (NADAC). Always check the rules with these organizations in advance, as they can change from time to time.
Make sure you check the regulations about the heights of jumps, point deduction rules, and non qualifying scores. Generally, each organization will still provide three different levels of competition.
Tracking Trials
These tracking events are run by the AKC and are a type of search and rescue. They provide dog handlers experience to help track and find lost animals, humans, and more. These competitions give them a chance to demonstrate the high scent capability they possess. To enter tracking trials, a Poodle must qualify three times and complete a track to earn the title.
This competition involves a specific number of turns based on the type and level of the test. During the competition, flags are dropped in certain articles that your Poodle must find and retrieve.
Your Poodle will wear a tracking harness and lead during the tracking contest. The lead is around 20-40 feet long, which tracks the tracklayer's scent and finds the objects. Generally, there are two judges, and both must unanimously agree that your Poodle has passed to gain a title. In a tracking competition, there are four titles to win:
Tracking Dog (TD): This is earned when a track is followed between 440-550 yards long. Usually, there are around 3-5 changes of direction laid by a human tracklayer.
Tracking Dog Urban (TDU): A track laid by a human under different scenting conditions in an urban environment.
Tracking Dog Excellent (TDX): Earned following a track laid down 3-5 hours that's 800-1000 yards long. This track has around 5-7 directional changes with different human cross tracks.
Variable Surface Tracking (VST): A 3-5 hour old track that could take your Poodle through urban settings and wilderness.
The difficulty of each title varies based on the length of the trail, the number of turns, and how much time passes between the track laid and Poodle running back. When your Poodle has earned all three titles, they get the title of Champion Tracker (CT).
Hunting Trials
Hunting trials are a show that you should definitely enter your poodle in. After all, poodles were bred to originally hunt and bring waterfowl back to their masters! While they serve as pets today, a lot of them still have these skills in them. Therefore it would be a waste not to enter them into hunting trials!
Hunting trials occur when your Poodle is judged based on their ability to notice or "mark" when a shot bird falls. Once they've fallen, they're evaluated again based on their ability to return to the area where they've sent the bird and retrieve it for the hunter.
Note: Only Standard Poodles can compete in hunt trials set by the AKC and UKC. Miniature and Toy Poodles can't compete. However, the Poodle Club of America holds a hunting class for Standard and Miniature Poodles.
How to train your Poodle for a hunting event
If you want to enter your Poodle into a hunting event, you'll want to do the following:
Guns: During training, you might want to use a starter pistol, blank, or shotgun.
Bumpers: A plastic or canvas cylinder which you can throw in the water to float or on land. The size and weight of the bumper can serve as a great equivalent to your Poodle retrieving a bird on a hunt. On average, a bumper will have knob like surfaces and plastic similar to the soft mouth of a bird. Bumpers come in different sizes and shapes; you can easily find them at gun shops, in catalogs, or online. They cost between $10-$20.
Birds: Once your Poodle becomes more experienced, you'll have to get real birds to train them. To train your Poodle, you'll want to use bumpers until your Poodle knows how to retrieve and control it properly; then you can mix both bumpers and birds.
Top Tip: If you really want your Poodle to perform well hunting, you might consider taking them to a retriever group. A lot of the time, this club will have more access to birds and is more affordable than buying them. To find your local group speak to your veterinarian or breeder.
What are the different levels of hunting?
When it comes to hunting, there are different levels your Poodle can reach set by the AKC, which are:
Junior Hunter: This is tested on four marks, two on the water and two on land/ Your Podle marks or detects where the bird falls before you send them to retrieve it.
Senior Hunter: Your Poodle must retrieve the bird on land and the water, but blind folded. They must be able to mark the bird without seeing it. The bird may fall behind a bush on land and on water, the bird may rest near the shore in the reeds.
Master Hunter: Your Poodle must be able to undergo blind retrieves, deal with several marks and face more distractions. In this level, your Poodle must honor other dog retrieves and stay in the heel position.
How does a Poodle qualify for hunting?
For your Poodle to win hunting titles, they must get separate scores from two judges. To earn the following titles, they must do the following:
Junior Hunter: Your Poodle must get qualifying scores from five AKC licensed or member hunting club tests.
Senior Hunter: Your Poodle must qualify for five AKC licensed tests. If they already hold the Junior Hunter title, they only need four.
Master Hunter: A Poodle must qualify for six tests; if they already have the Senior Hunter title, they only need five tests.
For your Poodle to qualify, it must have an average final score of 7. Every part of the test must score from 0-10 with two judges. Moreover, your Poodle must have an average score of at least 5 for every part involved in the test.
So, there you have it – everything you need to know to get started in conformation shows with your Poodle. It can be a really fun and rewarding experience for both you and your furry friend, but it's important to be prepared and know what to expect. If you follow these tips and seek out the advice of experts, you'll be well on your way to success in the show ring.
I hope this article has been helpful in giving you the information and inspiration you need to get started with conformation shows. If you have any additional questions or tips to share, I'd love to hear from you in the comments!
We are sorry that this post was not useful for you!
Let us improve this post!
Tell us how we can improve this post?
Marko is the founder and author at PoodleHQ, where he blends profound expertise with formal training in Animal Behavior and Canine Genetics. With multiple generations of poodles under his care, he's a breed connoisseur, honored with the Canine Care Excellence Award and lauded by the International Pet Enthusiasts Association.