Are you ready to take your beloved Poodle on adventures by land, air, or sea? As a proud pet parent, you may want to bring your furry companion with you everywhere you go. But before you hit the road, it's important to know a few things about traveling with your Poodle. In this article, I'll cover everything you need to know to make sure you and your furry friend have a safe and enjoyable trip – and when it might be better for everyone if your Poodle stays home.
Car Travel
Poodles are fantastic travel buddies if you plan and prepare well for your car journey. If you have children, traveling with them is not that different! You might be surprised that if you are well prepared, the road trip will be much easier than you think!
How to prepare your Poodle for car travel
If you've never taken your Poodle on a road trip, you'll want to prepare your Poodle by taking them on short 20 minute drives. Get acquainted with your vehicle and the road a few weeks before your trip.
Receive our Smart Poodles - Smart Tricks eBook free.
Join below for instant access!
Secure with a crate
To ensure your and your dog's safety, you should never let your Poodle ride free in the car. Instead, you should keep them in place with a sturdy crate, stopping them from jumping or throwing around if an accident occurs. Plus, if there ever was an emergency, emergency response teams can safely remove your Poodle from your crate in a damaged vehicle instead of handling a loose, injured, or frightened dog.
On the contrary, if your vehicle is not big enough for a crate, you'll want to get a harness specifically made to keep your Poodle safe. But it's important that they're the right size for your Poodle and can easily fasten onto your car's seat belt.
Carry your Poodle in the trunk or backseat of the car
You should place your Poodle to the car's trunk if you have one. This is a common option many large dog owners choose, and it's one of the best solutions for Standard Poodles. On the contrary, if your car does not have a trunk, then you should put your Poodle in the backseat of the car.
Don't leave them locked up in the heat
If you need to take a break while leaving your Poodle, you should never leave them alone in the heat. Even with the windows open and the car in the sun, the temperature inside the car can be extremely uncomfortable for your Poodle. After all, they can't handle heat like you, and I do!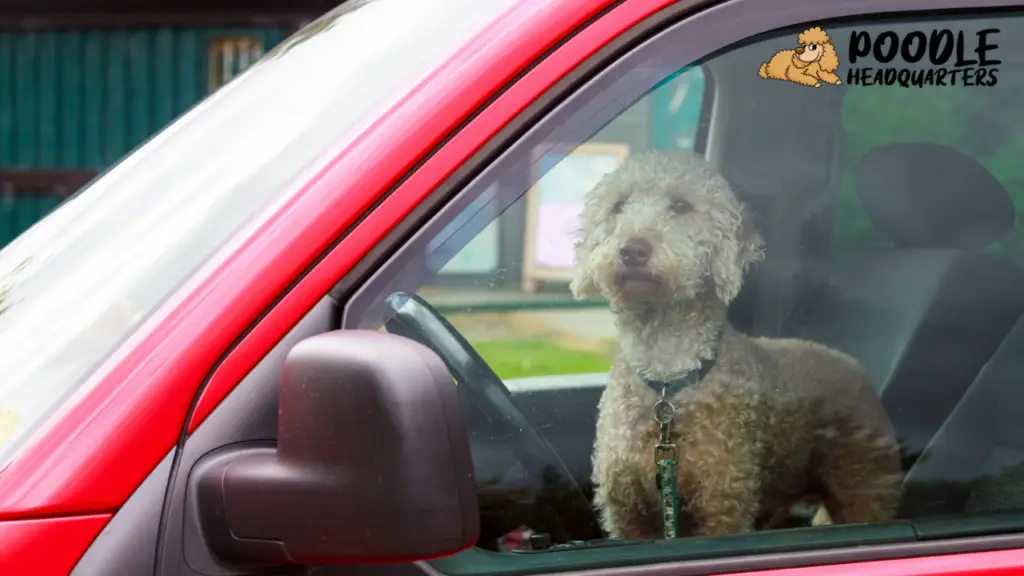 Note: Even if you decide to park in a shaded area, do note that the shade will move, putting them at high heat risk.
Regular stretches and bathroom breaks
You must remember to stop every 3-4 hours when on the road to let your Poodle stretch their legs. Equally as important is ensuring your Poodle does their bathroom business on long journeys. If you have a Poodle puppy, they might need to go more often than an older dog. Similarly, you should ensure your Poodle is well hydrated, offering them a drink between stops.
Note: If you're unsure of the break timings, think about how often your dog needs bathroom breaks at home, then base the time around that.
Think about the areas for bathroom
Another critical point to consider when going on long journeys is to think about where you stop for the bathroom. Therefore you might want to map your trip in advance to ensure you get a grassy area instead of a bustling metropolis for your Poodle to go to the bathroom.
Reduce stress while traveling
If you want a smooth car journey with your Poodle, you must try to reduce their stress levels. Some of the best ways to do this are petting your Poodle and praising them during the car journey. You might want to offer them treats periodically and give them toys to play with when on the road.
Be mindful of car sickness
Like humans, Poodles might get car sick now and again. They might not enjoy your car ride due to motion sickness in such situations. Typical signs to watch out for are:
Vomiting
Nausea
Excessive drooling
Loss of appetite
Yawning
If your Poodle gets carsick, you should speak to your vet. In such cases, they can give your Poodle medicine for motion sickness to handle the journey more easily. When it comes to medication, you should always check the right brand and dosage with your vet.
Air Travel
If you want to travel by plane with your poodle, you must plan ahead of time, at least one month. When planning your trip, make sure to check with the airline to see what the rules are for bringing your Poodle on board. Most airlines allow Toy Poodles to be taken on board in the cabin; however, with some airlines' seating spaces getting smaller, it may not be doable. Whereas a Standard may have to ride in the baggage compartment.
Another reason it's essential to check is that many airlines limit the number of dogs that can travel on a flight. Similarly, if the temperature is over 85 degrees or under 45 degrees Fahrenheit on stopovers, sometimes they don't allow it.
Many airlines often have different rules that change often, so you must get the required information before flying. Plus, before traveling, make sure your reservation is confirmed with your ticket.
Once it's confirmed, you should start preparing. But to really know how let's look at what cabin and cargo travel could mean for your Poodle.
In Cabin travel
Whenever you can, you'll want to keep your Poodle in the cabin. Unlike in a car, they might have to deal with new kinds of stress when they fly, which can be very overwhelming. Just seeing your familiar face can give them a lot of comfort, especially on long-distance flights. New sites, sounds, and even smells on the plane can be overwhelming for them. The typical main options for traveling in a cabin with your Poodle are:
Purchasing a set for your Poodle
Poodles small enough to fit under the seat in front of you in a carrier
Serve as an emotional support animal
Note: Always double-check with your airline on the regulations before flying them!
If you bring your Poodle to the cabin, you must prepare well. Always carry a bottle of water, a small dish, and a packet of food in case of delays. Remember to carry their collar and lead to exercise their legs before and after the flight, as well as walking through security. Security personnel will ask you to take your Poodle out of their bed, and your Poodle mustn't run off!
Also, if you can find a grassy area for walking your Poodle in the airport, you're lucky. However, if not, find a quiet outdoor area and always pick up after them if they do their business. Always keep a few small plastic bags to pick up their mess, paper towels, and a bottle of water to help clean up.
Cargo
If you cannot keep your Poodle in the cabin and in the cargo, then you must provide them with enough space. To ensure they're comfortable, you'll want to make sure they have bedding in their crate to snuggle up to. After all, the cargo of a plane can be prone to extreme temperature fluctuations.
When your Poodle travels in the cargo, you must consider the following:
Airline approved crate
Your crate must be approved by the airline you're flying with. If they allow, you should think about having a wooden or plastic crate, as metal ones are more likely to retain heat.
Cover the bottom with absorbent materials
When traveling in the cargo, your Poodle may become stressed due to the unfamiliar environment they're traveling in, no matter how well they're housetrained.
Therefore you'll want to put shredded newspaper, a sheet of synthetic fleece, or special pads you use in-house training. You'll want to choose materials to cover the crate in case your Poodle does an accident but absorbent enough to keep them clean and dry.
Note: If your Poodle has a habit of chewing on their bedding when stressed, you should not use an absorbent pad.
Try not to feed your Poodle 12 hours prior to the flight
While it's not always guaranteed, try not to feed your Poodle 12 hours before the flight. While you can't guarantee a clean crate, it increases the chance of a less messy one!
Tape up essential information to the crate
Always make sure there's contact information on the crate for your Poodle. You should tape a piece of paper with your name, address, phone number, health records, and a copy of the rabies certificate. It's also important to add the address of the destination you're going to and the contact number of the address you're staying at.
Top Tip: Always seal this information with clear tape, so it can be easily read and protected from the rain.
Freeze water in a bowl
Add frozen water to your Poodle's bowl and fasten it to the inside of their crate. I recommend you do this as it stops the water from spilling out during loading and steadily provides your Poodle water as the ice melts.
Secure the crate
Fasten the door of their crate with a bungee cord to keep it from opening when the crate is dropped or bumped during turbulence.
Check the timings and location
Always make sure you know where to board your Poodle for cargo ahead of time before you fly. You should also check in advance where to pick your Poodle up at your required destination. If you don't find the required airline personnel at loading time, ask a gate agent for the ramp and make sure your Poodle gets boarded. If you find yourself waiting for a long time when you departed the plane for your Poodle, ask what is happening. 
Top tip: Try and plan a flight with no stopovers to reduce the chance of your Poodle getting lost and put on the wrong flight.
Layover
If traveling long-haul with your Poodle, you should be mindful of your layover. Ideally, you should book a flight with a short layover so that they can be immediately transported to the next plane without a long delay. To know more, you should check the airline's rules regarding layovers before traveling.
Always consider their health before flying
Before booking any form of travel for your Poodle, you must be aware of the risks associated with traveling. While all dogs have their own charm and health issues, some may be at greater risk when traveling. After all, high altitudes can be incredibly harsh on dogs, so you should take your vet's advice before flying.
Similarly, many Poodles tend to suffer from orthopedic and skeletal problems like hip dysplasia and luxating patella; therefore, you'll want to make sure there is lots of space for your Poodle and they don't feel cramped.
Consider extra fees
When flying with an airline, you'll want to check their fees. While some airlines make you pay for an additional ticket for your Poodle. In contrast, others will make you pay an additional "pet fee" for them to stay in the cabin. If this is the case, an airline could possibly charge between $125 to $200 for a small Poodle. However, this is just an estimate; to know for sure, check with the airline in advance.
Identification
Even if your Poodle has a microchip, you should think about adding a collar tag when traveling. While microchips may be useful, the contact number on your chip is most likely your home address, which may not be accessible when you're in a foreign country. For the safe side, you should also keep your microchip registry updated and add several numbers.
On the tag you make, always add your name, your dog's name, and the phone number of your destination. If you want, add your cell phone number for more contact options. Whatever tag you choose, always use a regular buckle collar to keep your Poodle safe at all times.
Boarding
If you're going away somewhere and can't take your Poodle with you, you might want to consider boarding options. Many people often attach a heavy stigma with boarding kennels, saying it's jail like; however, it's anything but. They're more like a summer camp for your Poodle. They keep them safe and secure, often looking after your Poodle better than a pet sitter. The only downside is that they may not give your dog as much individual attention as a pet sitter.
To select the right kennel, you'll want to think about the following:
Play areas: A lot of kennels have play areas for many dogs. You might want to ask the kennel in advance how friendly the dogs are playing there and what their supervision policy is like.
Medication: If your Poodle needs to take regular medication, ask the kennels in advance if they're willing to administer this. Some kennels often provide extra charges for doing so.
Shots: You'll want to know the necessary shots the kennels will give. Most kennels need proof of rabies vaccination, distemper, bordetella, and parvovirus. If you're not up to date with your Poodle's yearly vaccinations, ask for a titer test. This blood test shows the amount of protection around specific diseases. You should also check with the kennel if this report can be accepted.
Veterinarians: While most kennels will ask in advance for your veterinarian's name and contact number, you should also know their medical policies. You should ask how they handle medical merde agencies and if they have an onsite veterinarian. If they don't, you should pick your kennel based on the proximity to a nearby vet.
Grooming facility: You should check with your kennel if they have a grooming facility. They may be able to give your Poodle a bath, clip nails, and look after small errands when you're away.
Season: Once you've selected the kennel for your Poodle, you'll want to reserve the space for your Poodle. However, note that certain seasons can be very busy and booked up 3-4 weeks in advance, like Christmas and Summer. Therefore take time out to plan and book in advance!
If you don't have a trip planned soon, you might want to do a trial run and board your Poodle for just a night or two. The younger they are, the better they will be able to adapt to boarding, and they will become familiar with this when away from home. This gives your Poodle time to become familiar with the kennel staff and environment. Plus, because you'll be picking them up shortly after, it will allow them to feel like you'll pick them up and not abandon them.
Taking Care of Other Trip Details
No matter what form of travel you choose to undergo with your Poodle, you should always do the following:
Medications
Always ensure you have packed the right medications for your Poodle while away from home. You'll want to also think about the destination you're traveling to if you need tick and flea prevention.
Top tip: If you're traveling by flight, you'll want to pack everything in your hand luggage in case your luggage gets lost or delayed.
Pack a first-aid kit
If possible, pack a small first aid kit. This kit does not need to be massive with lots of ailments, just some gauze pads, baby aspirin, and antibiotic creams.
Pack enough food
Always bring enough food for your Poodle's round trip. Even if you think you might easily be able to get your Poodles type of kibble, just be careful. Sometimes stores can discontinue items, and the last thing you will want to do is take lots of time out of your vacation to visit other supermarkets to search for food.
Carry water
Sometimes a water change may trigger digestive upset in your Poodle. Therefore if you're traveling on a short trip, you should carry all the water you need. However, for a longer trip, you might want to replace the water from home with "new water gradually." The other option is to buy and carry bottled water.
Pack disposable plates and dishes
To save yourself the headache of travel, you might want to pack paper plates and water dishes. This way, you can add the food or water to the plate, then throw it away, eliminating the burden of finding somewhere to wash them.
Carry extra layers
Always carry a spare blanket, towels, and roll of paper towels in the event of an accident.
Keep plastic bags handy
Always carry plastic bags for rest stops. If you prefer using a scooper to pick up poop, bring one. If you can't clean it, pop it into a plastic bag for cleaning later.
Bring your Poodles favorite toy
Lower their stress levels by bringing their favorite toy from home. Travel can be stressful, and if they can curl up with their favorite toy, they may feel more comforted.
Use a crate
Crates are often one of the best forms of keeping your dog safe when traveling. If your Poodle travels in a harness, then always consider a crate that's lightweight and can fold for your stay in a motel room. This crate stops damage to any room and prevents your Poodle from escaping. If you do plan to travel with your Poodle and stay over, keep a sheet of plastic underneath the crate to catch spills from going on the carpet of the room you stay in.
Note: Always ask housekeeping for one if you don't have a plastic sheet. Always use your own towels to wipe your Poodle's paws if they're muddy. Plus, you might want to carry baby wipes to clean them when on the go.
We are sorry that this post was not useful for you!
Let us improve this post!
Tell us how we can improve this post?
Marko is the founder and author at PoodleHQ, where he blends profound expertise with formal training in Animal Behavior and Canine Genetics. With multiple generations of poodles under his care, he's a breed connoisseur, honored with the Canine Care Excellence Award and lauded by the International Pet Enthusiasts Association.